Rev. Daniel R. Swartz is originally from Hagerstown, MD, where he had the privilege of being raised in a home where both parents were believers in Jesus Christ and regularly attended an evangelical church. While there was some intimation at an early age that God might want him in the pastorate, it was at the age of 16 that the Lord was pleased to draw Daniel to Himself and began to give him a desire to study and teach God's Word.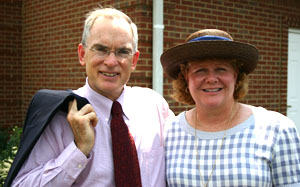 After receiving a B.A. from the Washington Bible College in 1974 and a Th.M. in 1979, Dan moved to Richmond, VA to help work with both the high school and the college & career segments of Immanuel Baptist Church. It was here that he met and married his wife Debra.

In October of 1983 the Swartz' were invited to candidate at the newly formed church. And before the end of the year the church members unanimously voted to ask Daniel to be their first full-time pastor. These duties were assumed in January 1984 and have continued to the present.